Labor Shortage: The Great Resignation
In the wake of the COVID-19 pandemic many companies find themselves increasingly short-staffed or unable to hire back staff furloughed during the pandemic. The labor shortage problem permeate across industries but is more common in service sectors such as hotels, restaurants, construction companies, plumbing and HAVC companies.
During COVID-19 pandemic workers aren´t just quitting, they are rethinking what they want out or work. They are switching jobs or industries for better opportunities, a phenomenon has been assigned a name: The Great Resignation.

Hiring Now banner on a street


Labor shortage often affects small companies more. To fill job vacancy, big companies can afford to attract workers with higher salary and sign-on bonuses. Business Insider reported that the e-commerce giant planned to hire 150,000 seasonal roles across the US. It promised signing bonuses as much as $3000 and an average starting pay of $18 per hour (In comparison the national average hourly wage for waitress is $11). Small companies typically cannot match the war chest of these big companies to hire qualified candidates. They have to find ways to increase their productivity and efficiency from other places.
GPS Tracking Can Help Increase Efficiency
Increasing productivity is an effective way to overcome or mitigate labor shortage. A GPS tracking system can just do that. GPS tracking can also help you get rid of the lengthy reports and hundreds of phone calls for the management. Here are a few examples that GPS trackers can increase productivity and efficiency in different industries.
Increase airport shuttle efficiency with GPS tracking devices
You might still remember the last time you were waiting for the hotel shuttle to at the airport. Hotels do not run the airport shuttles on a regular schedule. Often you call the hotel front desk to ask them to send a shuttle to pick you up. However, the front desk often does not know where the shuttle is and the limited resource cannot be used efficiently.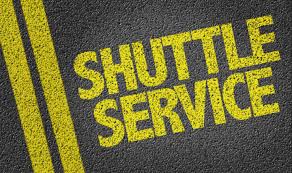 Sign of shuttle service


In this case a GPS tracker and a route planner can plan well-optimized routes to ensure shuttle drivers make it to the airport in time for specific flights and control unnecessary expenses.
Tracking devices also help customers know when to expect shuttle vehicles to arrive, which is very important for today´s busy travelers. Our Spectrum Tracking mobile apps make it possible for travelers to track the status of the vehicles with their smartphones, so that they don´t need to waste time standing in queues for shuttles to arrive. This will increase customer satisfaction.
Logistics companies increase efficiency with GPS tracking devices devices
find ways to reduce overhead costs while providing better service to customers. Spectrum Tracking fleet tracking solution helps transportation companies increase operational efficiency, cut fuel and maintenance costs, protect against costly events like theft or cargo spoilage and make better scheduling and planning decisions that increase customer satisfaction and loyalty.
Home service companies increase efficiency with GPS Tracking devices
Employees of home service companies (plumbing, electrician, lawn care, and HAVC) spend lots of time on the road. During a normal day they visit 5-10 customers per day. Home service companies can benefit from a GPS tracking system in multiple ways.
(1) Answer customers questions about timing and availability faster and spend much less time on the phone with our drivers.
(2) Plan the routes with Spectrum Smart Routing to reduce the travel distance to save time and fuel consumption.
(3) Deploy the nearest technician to the job site when customer requires emergency help.
(4) Monitor idle time and the route taken.
Features that Spectrum Tracking Provides
At Spectrum Tracking our dedicated team provides customized solutions to thousands of customers around the world to help them increase the productivity and efficiency. Here are the key benefits to use Spectrum Tracking service.
Increase Productivity and Efficiency: Our GPS Tracking devices help you dispatch crew more efficiently. The real time monitoring feature also significantly reduces the time with drivers (you know where exactly they are from the map, no need to call to find out)
Optimized routing
A good GPS tracking system will help you to identify the shortest routes to reach the destinations and in this way, you can also enhance the fuel efficiency. Our Smart Routing app provides route optimization tools to monitor your fleet and inform more streamlined route planning.
Reduced Costs
You can reduce fuel cost by reducing the idle time and by optimizing the route. You can reduce the maintenance cost by monitoring the vehicle health in real time. In addition, you can reduce the insurance cost (Spectrum Tracking partners with major insurance companies to help vehicle owners to reduce the insurance cost)
Enhance the Performance and Driver Safety
A GPS tracking app gives you access to driver ´s behavior and you will stay updated about their whereabouts all the time. It helps you to keep an eye on the harsh driving and speeding. In such cases, you can warn them or notify about the incident.
Reduced Risk of Theft
Find and recover stolen or misplaced assets faster with a GPS tracking device. Receive alerts if the vehicle if a vehicle is used during off-hours or if an asset leaves a pre-designated area.
Increase customer satisfaction
Quality customer service is often considered as a plus point for any business. Our tracking platform enable you to share your driver location with your customers lets them follow a truck´s route and ETA in real time, which will increase customer satisfaction.